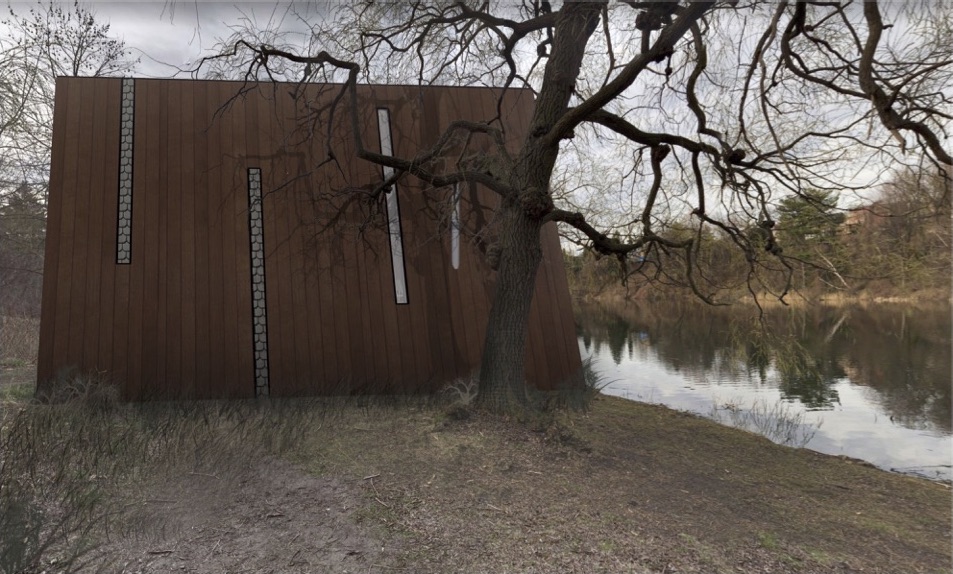 A-frame house
Designing our personal off the grid habitable space. Out of the few given sites, High Park, located in the downtown area of Toronto, was the most ideal for my personal space. Not only is it adjacent with clear and non-swampy water, but it is also in a short walking distance (5-6 minutes) to the subway station, as well as a clear open space for intaking the solar energy.
Some of the off the grid living solutions were a Japanese method of composting (Bokashi composting) created by Teruo Higa, a professor at the University of Ryukyus in Okinawa. Bokashi composting is an anaerobic process (no oxygen) which ferments the food scraps using effective microorganisms. It can compost fruits, veggies, rice, bread, pasta, meats (cooked or uncooked), bones and dairy coffee grinds.
Further, using Tesla Solar tiles made from tempered glass with solar cells that are contained inside for electricity. It is much cheaper and tougher (3 times than the standard roofing tiles), provides better insulation, and lasts longer than a conventional roof. The Tesla Solar Roofs connect to Powerwall 2, which behaves as the storage of the electricity/battery and has the capability of storing 14 kWh of energy with 5 kW continuous power draw and 7 kw peak. Since this home does not require an excess amount of energy, a few strips of this.
One of the most efficient ways of heating the homes in Canada is through a fireplace or a cook stove; requires wood - which can be provided by High Parks broken branches and bought, easy to use set up, can be used as a cooking fuel. Moreover, using the Home Biogas bio-toilet which is operated with manual pump and does not need to be connected to a sewage. The waste goes directly to the biodigester in order to turn it into a biogas that can be stored and used as cooking gas (methane gas). An average day biodigester can produce 300 liters of gas, which is about an hour of cooking gas. It is recommended to not exceed 30 flushes a day. The toilet uses only 1.2 liters of water per flush.